K2 Systems Inc offers patented security and interactive technology to provide best in class protection and the ability to monitor your property 24/7. K2 Systems Inc utilizes advanced interactive security solutions to provide the most reliable home and business monitoring service.
Stay aware with email and text notifications
Monitor your property from the web or Smartphone
Control arming and locks from the web or Smartphone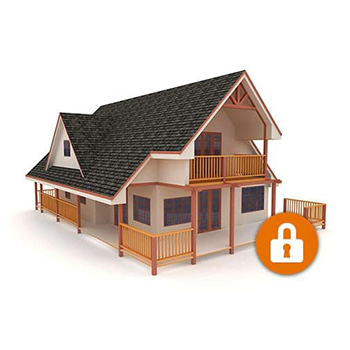 Better Security
Dedicated Connection
Stay protected and connected, even if the phone line is cut, the Internet is disconnected, or the power goes out.
Crash & Smash Protection
Our technology protects you from an intruder destroying your security panel by sending an alert at the first sign of entry.
Two-Way Voice
Industry-leading two-way voice technology keeps you safe and connected during any emergency.
Locks
Integration of door locks with your Alarm.com security system allows for remote door lock control.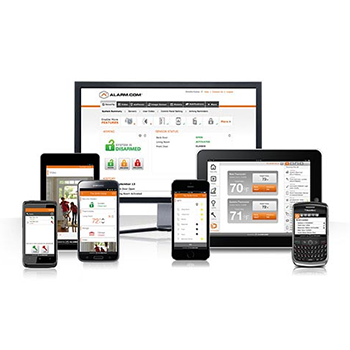 Interactive Services
Remote Control
Remotely arm and disarm your security system directly from your smartphone
Real-Time Alerts
Receive text or email notifications when there is any activity at your property.
Mobile Apps
Free mobile apps with intuitive technology keep you connected and in control.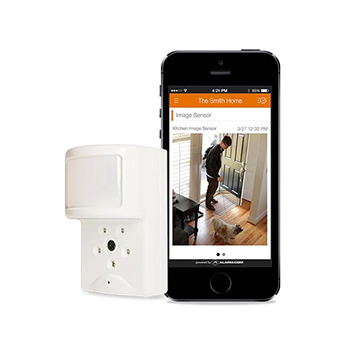 Visual Verification
Image Sensor
The exclusive Image Sensor powered by Alarm.com is a breakthrough new product that enhances your ability to visually check on at your property.
Motion detector with on-board camera
Receive text and email motion alerts with image attached
Advanced features like Pet Immunity and Night Vision
Replace a standard Motion Detector with up-to-date technology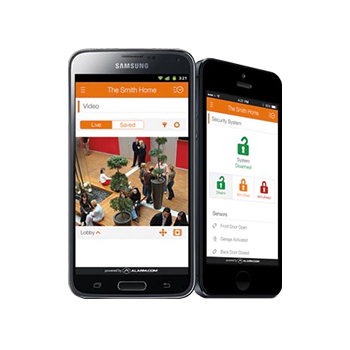 Video Monitoring
K2 Systems Inc's Video Monitoring solution lets you see what's going on at your property, even when you're not there. Now, you can see who's pulling in the driveway, get a video alert when someone comes through the front door or just check in to see how your favorite pet is doing.
Key Benefits
Watch live video on your smartphone, tablet, or PC
Schedule recordings based on motion or doors opening
Get video alerts sent to you instantly via text or email
Stay protected with tamper-proof, off-site video storage
Live Streaming
Check in whenever you want from your smartphone, tablet or computer to get a live view of what's going on.
Record Video
Capture motion or event-triggered video clips, making it easy to find exactly what you want to watch later.
Video Alerts
Get video clips sent directly to you via text or email when the front door opens, the alarm goes off or there is motion in the basement or anywhere else.
For Photo Verification without Broadband
The exclusive Image Sensor powered by Alarm.com is a breakthrough new product that enhances your ability to visually check in at your property. Whether it's day or night, you'll be able to know and see what's going on immediately.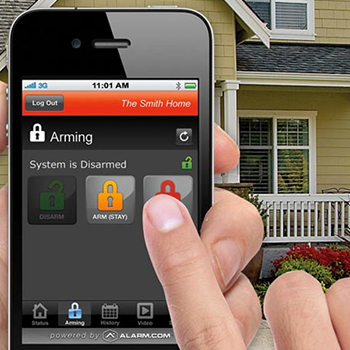 Home Automation
K2 Systems Inc offers a completely connected system enabling seamless automation across your security, video and energy management systems. Now your home can adjust automatically to you.
Key Benefits
Automatically lock doors when system arms
Automatically turn on lights when front door opens
Set lighting schedules to fit your lifestyle
Connect all your devices to work together
Get a text alert with an image whenever the front door opens
Protect your business with automatic system arming
Arm your system and automatically lock the door, turn off the lights and adjust the thermostat
Home Automation Features
Integrated Solutions
K2 Systems Inc integrates all your services into a single connected solution. Use customized triggers to connect your security system with your video cameras, locks, lights, and thermostats to get the most highly personalized automated solutions all in one place.
Customized Triggers
Make the system do the work for you. Use the sensors installed in your home to automatically trigger activity. So, when you disarm the system the hall light can turn on and thermostats automatically adjust.
Smart Schedules™
Smart Schedules™ allows you to set automatic light and thermostat adjustments based on time of day and day of week. Alarm.com can even learn your activity patterns and help optimize a schedule that fits you perfectly.
Example: Just by locking the front door, your customized trigger can also automatically arm your security system, turn the lights off and adjust your thermostat to an energy saving temperature.
Example: Simply by disarming your system, you can create a customized trigger that automatically unlocks the front door, turns the living room lights on and adjusts the thermostat to a comfortable temperature.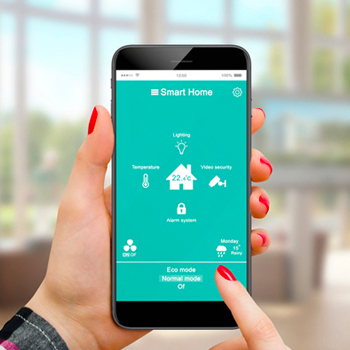 Energy Management
With K2 Systems Inc Energy Management services, you can remotely adjust your lights and thermostats and set energy saving Smart Schedules™ to fit your lifestyle. K2 Systems Inc can help you stop wasting energy and start taking control of your energy bills.
Key Benefits
Reduce energy use without compromising your lifestyle
Control lights and thermostats over web or smart phone
Email and text alerts inform you of thermostat changes
Automatically optimize energy use with personalized Smart Schedules™
Energy Management Features
Thermostats
Remotely adjust your thermostat via the web or Alarm.com's mobile app and set automatic thermostat schedules so you save money.
Lights
With Alarm.com you can remotely turn your lights on or off, have them come on automatically when you walk in the door or set a schedule to make it look like someone is home when you are on vacation.
Smart Schedule
Create custom energy-saving schedules for your home or business to automatically adjust the temperature so you're not wasting energy when you are away.
Activity Patterns
A smarter way to optimize energy savings using the behavioral insights from your security system to make better energy decisions.
Extreme Temps
Now it's simpler than ever to manage your energy use. Make automatic adjustments based on the external temperature to automatically save on energy use without sacrificing comfort.
Energy Monitoring
Know how much energy you actually use and how much it costs. Be able to see the energy use of your entire home or individual appliances and set goals to keep you on track in the future.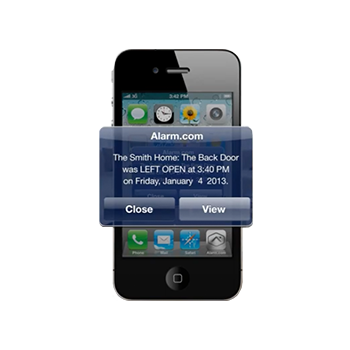 Access
Never again worry about leaving a door unlocked, or the garage door open. K2 Systems Inc's powerful interactive security offering gives you unprecedented control over your property.
Key Benefits
Monitor your property even when the system is disarmed
Stay aware with email and text notifications
Control your home via the web or mobile app
Connected Locks
Stay in Charge
Vitex Systems Inc can send you immediate alerts via text or email to notify you when someone unlocks the door. You'll know who entered your home and when. Plus, using K2 Systems Inc's home automation solutions, you can have the doors lock whenever the security system is armed or unlock when the system is disarmed.
The End of Key Copies
Stop leaving the key under the doormat. Use K2 Systems Inc's door lock security features to:
Set up unique user codes for people who are authorized to enter your property, like your dog walker, neighbor or babysitter.
Know exactly who is accessing your property and when a visitor arrives and leaves.
Avoid giving out keys and wondering where they will end up!
Unlock your door from your smartphone no matter where you are.
Garage Doors
Through our exclusive partnership with LiftMaster®, the leader in garage door openers, your garage door can now be part of your connected home experience.
Check to see if your garage door is closed no matter where you are
Remotely open and close your garage door
Automatically close garage door when system is armed
Receive alerts if garage door is left open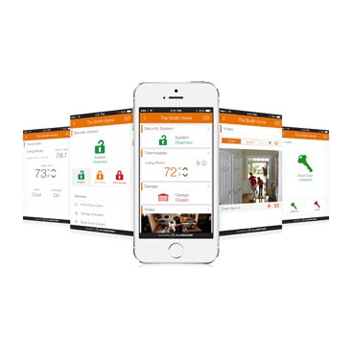 Mobile Apps
Stay connected with your home wherever you are with our mobile app.
Key Benefits
Control your home from your smartphone
Monitor your home from anywhere
User-friendly interface
Easy Access
Intuitively designed mobile interfaces make it easy to interact with your security system.
Instant Awareness
Real-time alerts are delivered right to your mobile device when activity takes place at your property.
Remote Control
Arm your system or turn off the lights from your phone instead of having to return home if you forget.